In the early nineties, tests were underway at NASA Dryden with the revolutionary X-31. Used on this aircraft was a GEC Marconi helmet.

One of these helmets turned up on eBay a couple of years ago. The seller was in the surplus tool and equipment business out of New York State. He claimed to have purchased it at a surplus auction from Grumman Aerospace ( Northrop-Grumman ) who is also located near New York City. He stated in his description that it was used with the F-14 and cost the Government $15,000.00 It is not uncommon for items at auctions like this to sometimes have a tag or invoice that shows original purchase value.

It is not know if this helmet really was used on the Tomcat but following information shows its links with the X-31 program. This particular helmet has a tag stating GEC Avionics Limited, IHD (Intergrated Helmet Display) serial number 001.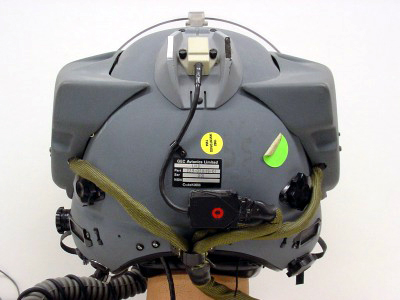 The X-31 Viper helmet:
Installation of a Helmet Mounted Visual/Audio Display (HMVAD) was completed on the X-31 (aircraft No. 2) in October 1993. The purpose of the HMVAD is to provide out-of-the-cockpit situation awareness and a simulated helmet-mounted sight to the pilot during high angle of attack combat maneuvering.
The system consisted of a GEC Viper helmet with symbology projected on its visor by a monocular Cathode Ray Tube. Also included was a Polhemus head tracker and an angle-of-attack audio cueing device. Both of these features were demonstrated on the X-31 during post-stall close-in combat, a first for any aircraft. The head tracker can be seen on the pictures. The monoculars are adjustable by turning a knob on the helmet.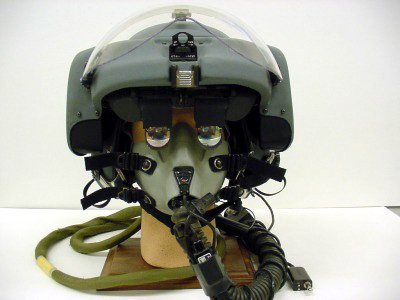 Together with this helmet came a pair of glasses with apparently a holographic use, made by CEG aswell. The helmet also came fitted with a boom mic, and you can see the mount in one image. It is removed in the images. The nape support is adjustable as are the individual earcups via three separate knobs utilizing strings that wind up when you turn the knobs. The leather liner is named to the pilot who used it. The type of mask used is not know. He helmet on these pictures is fitted with the MBU-14/P navy style mask for the images only.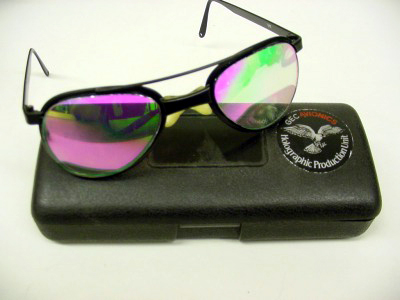 The X-31 program logged an X-Plane record total of 524 flights in 52 months with 14 pilots from NASA, U.S. Navy, U.S. Marine Corps, U.S. Air Force, German Air Force, DASA, Rockwell International, and Deutsche Aerospace, flying the aircraft. Seen on this picture is Maj. Quirin Kim ready to fly the NASA T-38.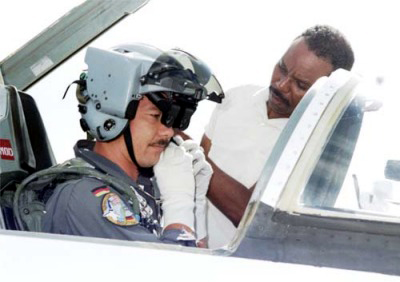 The British company GEC-Marconi Avionics developed several helmet displays, ranging from the simple Alpha Sight, Viper I and II to the fully integrated Crusader system. Nowadays, Marconi is an intergrated part of BAe.

Special thanks to Milehigh and NASA Dryden for their pictures.