With a SAAB JAS-39 Grippen equipped with the ODEN Helmet Mounted Sight system, the pilot can aim at the enemy with the HMS instead of using a standard sensor with limited ability to move. At flight tests, time-savings with more than several seconds have been proved for locking up the seeker. The possibility to lock on several aircraft within a short time range has also increased considerably, compared to earlier when the sensor had to be guided.

The pilot can slave the aircraft's radar, the missile seeker and other sensors with the HMS system. The HMS system provides the pilot with visor presented information before attack.
Performance increasing equipment
Through using a HMS system a pilot can guide his sensors outside the normal search programme. A faster locking up is achieved through guiding the sensor towards the right area straight away and the normal search programme will then find the target.
A HMS system will have its complete function when it is working together with an short range air-to-air missile which has a high maneuvering ability. The pilot can then fire his weapons in a position that earlier was impossible, this to avoid being shot down.
FFV Aerotech's HMS system ODEN is a further development of the original flight helmet 116 which is a standard helmet for the Swedish Air Force. The only change is an optics which has been integrated to the helmet shell with a protective hood on the outside. The HMS system using the same oxygen mask and maneuvering of the visor as the original helmet system. And has been blast-tested in a wind tunnel with approved result.
Symbology
HMS system ODEN uses static presentation of symbols for aiming of targets. The presentation consists of a hair cross, four arrows and presentation of the current choice of weapons.

System description
The HMS system consists of the following subsystems
· Helmet with relay optics and display. This fulfils the same requirements as the original helmet system.
· Helmet tracker system. This consists of an electronic unit, a transmitter and a sensor. The system is built on the magnetic principle with a generated magnetic field for positioning the helmet's position. The electronic unit also runs the display on the helmet which consists of ordinary LEDs.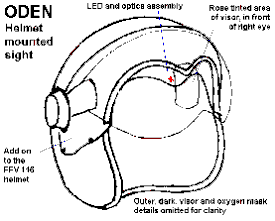 The electronic unit communicates with the aircraft's mission computer via either a bus- or a series communication. There is a possibility for other subsystems in the aircraft to communicate with the HMS system.

FFV Aerotech's HMS system is a high performance low cost alternative with sufficient performance to heavily increase the combat ability of the aircraft.

Technical Data
· Working range: yaw ± 180 degrees / pitch ± 90 degrees / bank ± 180 degrees
· Head-motion-box: X(Front-Rear) ± 406 mm / Y(Left-Right) ± 254 mm / Z(Up-Down) ± 152 mm
· Update rate, tracker: 60 Hz
· Time delay, tracker: 46 ms
· Resolution: angular 1.75 mrad, 0.1 degree / translation 2.54 mm
· Accuracy: "HUD" box 2 mrad (RMS) / Others 4-10 mrad
· Power supply: 115 V ac, 0.7 A, 400 Hz / 28 V dc, 0.1 A
· Transmission visor: 83% (blue-green light)
· Reflection visor: 83% (red light)
· Total weight: 1.35 kg
· Field of view: 6 degrees
· Exit pupil: 18 mm
· Range: Depending on sight conditions and the range of the radar
· Possible colloborating systems: radar, missiles, OTIS, FLIR, camera
· Accuracy system: Better than 1 degree

Kindly taken from Urban Fredriksson's website. ODEN picture courtesy of SAAB