Since the 1970s, the trend in Army aviation has been to rely increasingly on helmet-mounted display (HMD) devices or systems to provide the aircrew with pilotage imagery, flight information, and fire control imagery and symbology. The first such system was the AN/PVS-5 series night vision goggle (NVG), circa 1973. This system was the aviation version of the SU-50, the earliest HMD used by the infantry. It consisted of 2nd generation image intensification ( I2 ) devices "hung" on the existing flight helmet. By 1989, the AN/PVS-5 had been replaced by the AN/AVS-6 Aviator's Night Vision Imaging System (ANVIS), the first I2 HMD designed specifically for Army aviation use. ANVIS is a passive, binocular, 3rd generation I2 system and has improved sensitivity and resolution over the 2nd generation I2 tubes. ANVIS is attached to current Army helmets, e.g., SPH-4B and HGU-56/P, using specially designed mounting brackets. The recent addition of symbology to the standard ANVIS has produced the AN/AVS-7 head-up display (HUD). [Note: There is some disagreement among leaders in the field of HMD research and development as to whether or not ANVIS and its predecessor, the AN/PVS -5 NVG, are "true" HMDs.]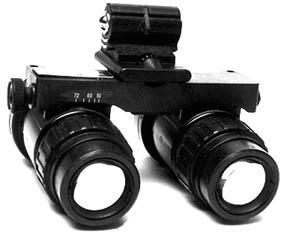 ANVIS6 goggles

When the AH-64 Apache attack helicopter was fielded in the early 1980s, the head-mounted I2 sensors in NVGs were replaced as the imagery source by a forward-looking infrared (FLIR) sensor, the Pilot's Night Vision System (PNVS), mounted on the nose of the aircraft. Imagery from this sensor is displayed on a miniature 1-inch diameter cathode ray tube (CRT) and optically relayed to the eye. This system is known as the Integrated Helmet and Display Sighting System (IHADSS). It is a monocular system, presenting imagery to the right eye only. The IHADSS was the first integrated HMD, where the helmet, head tracker, and display were designed as a single system. The success of IHADSS in Army aviation has greatly influenced and contributed to the proliferation of HMD programs

Currently, the Army is developing the RAH-66 Comanche reconnaissance helicopter. This aircraft will utilize a partially overlapped biocular HMD, known as the Helmet Integrated Display Sight System (HIDSS). It consists of a pilot retained unit (PRU) and an aircraft retained unit (ARU). The PRU is the basic helmet with visor assembly. The ARU is a front piece consisting of two image sources and optical relays attached to a mounting bracket. The HIDSS development and validation phase design, which uses two miniature, 1-inch, CRTs as image sources, provides a 30º (V) by 52º (H) field-of-view (FOV) with a 17º overlap region. However, miniature displays based on flat panel (FP) technologies [e.g., liquid crystal (LC) and electroluminescence (EL)] will very likely replace the CRTs in subsequent program phases.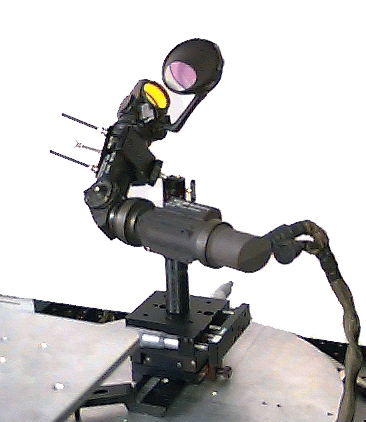 HIDSS relay optics
The trend for increasing reliance on HMDs in aviation, as well as in other sectors of the Army, will continue. The U.S. Army Night Vision and Electronic Sensor Directorate (NVESD), Fort Belvior, Virginia, is developing an HMD under the Advanced Helicopter Pilotage (AHP) program. The AHP HMD is biocular, providing the same imagery to each eye. Its two optical channels each provide a 40º monocular circular FOV. When mounted on a helmet, the system provides a 30º (V) x 50º (H) total FOV with a 30º binocular overlap region.
The United States and the United Kingdom have collaborated on the Covert Night/Day Operations for Rotorcraft (CONDOR) program. CONDOR is a research platform for demonstrating advanced visionics concepts and includes a variable FOV HMD based on high resolution miniature active matrix liquid crystal displays (AMLCDs).
The U.S. Army and the Defense Advanced Research Projects Agency (DARPA) have funded a number of additional aviation HMD concepts based on FP technologies. These include the Miniature Flat Panel for Aviation (MFP/A) program which has as its goal the investigation of using miniature FP technology displays in the development of an HMD for use in rotary-wing aircraft and the Aircrew Integrated Helmet System (AIHS) Comanche Compatibility program which has as its goal the development of an HMD design using the Helmet Gear Unit No. 56/P (HGU-56/P) flight helmet as the platform.
Summary of Current rotary-wing HMD programs.
Program

Fielded

Programs in Development

Highlights

ANVIS

IHADSS

HIDSS

MFP/A

AVS/Condor

AIHS-H

AIHS-K

Vehicle

Rotocraft

AH-64
Apache(1)

RAH-66
Comanche

Rotocraft

Rotocraft

RAH-66
Comanche

RAH-66
Comanche

Program Type

Production

Production

EMD

R&D

R&D

PI

PI

Mass

22 kg(2)

1.8 kg

2.6 kg

--

--

--

--

CM longit

30 mm(2)

20 mm

34 mm

--

--

--

--

CM vertical

37 mm(2)

27 mm

48.4 mm

--

--

--

--

Helmet

All

Custom

Custom

HGU-56P

HGU-56P

HGU-56P

HGU-56P

LLLTV

--

ANVIS

P

--

--

ANVIS

ANVIS

FLIR

--

1st gen

2nd gen

2nd gen

2nd gen

2nd gen

2nd gen

Channels

Binocular

Monocular

Biocular

Biocular

Biocular

Biocular

Biocular

FOV

40°

40° X 30°

52° X 30°

50° X 30°

60°-100° X 30°

52° X 30°

52° X 30°

Overlap

40°

N/A

18°

30°

20° to 50°

30°

30°

Exit pupil

--

10mm

>15mm

>15mm

15mm

>15mm

>15mm

Eye relief

15-30mm

10mm

>25mm

>25mm

>25mm

>25mm

>25mm

Eye clearance

15-30mm

13mm

>22mm

>22mm

>22mm

>22mm

>22mm

Display

18mm I2 P22 phosphor

1" CRT P43 phosphor

1" CRT P53 phosphor

1280X1024 AMEL

1280X1024 AMLCD

1280X1024 Flat Panel

1280X1024 Flat Panel

Color

Monochrome

Monochrome

Monochrome

Monochrome

Color

Monochrome

Monochrome

TV lines/pixels

~2000-3000

809

960

960/809/525

960

960

960

Roll compensation

Yes

No

Yes

No

No

Yes

Yes

Electronics

Analog

Analog

Analog

Digital

Digital

Digital

Digital

Modules

--

LRU

SEM-E

6U VME

9U VME

Sem-E

SEM-E

Latency

1.3msc(x)

< 17msec

< 66msec

--

21 msec

< 42msec

< 42msec

Egress

Breakaway

Breakaway

QDC

--

--

QDC

QDC

Sponsor

NVESD

U.S. Army AAHPMO

U.S. Army Commanche PMO

U.S. Army Natick RDE

U.S. Army AATD

U.S. Army ACTSPMO

U.S. Army ACTSPMO

Company

Multiple

Honeywell

Kaiser

Honeywell

Huges

Honeywell

Kaiser

Star/Duration

1980-present

6/85-present

1/93-present

3/94-present

1/94-present

8/95-present

8/95-present

Progress

25,000 units

1300 units

3 units

1 unit

--

Passive HMD

Passive HMD
MFP/A - Miniature Flat Panel for Aviation; AVS - Advanced Visionics System; A1HS-H - Aircrew Integrated Helmet System - Honeywell Inc.; A1HS-K - Aircrew Integrated Helmet System - Kasier Electronics; EMD - Engineering Manufacturing and Development; P1 - Preplanned Product Improvements; LLLTY - Low Light Level Television; LRU - Line Replaceable Unit; SEM-E Standard Electronic Module, Format E; VME- Virtual Module European; QDC - Quick Disconnect; AAH - Advanced Attack Helicopter; PMO Project Manager's Office; AATD - Aviation Applied Technology Directorate; ACIS - Aircrew Integrated System; NVESD - Night Vision and Electronic Sensor Directorate;

Notes: (1) Also used on Italy's A-129 Agusta helicopter.
(2) Based on SPH-4B w/ANVIS and battery pack.
(3) Based on phosphor persistence; No measurable electronic delay.
(4) Quantities; AH-64 (807) units(), A-129 (87 units), spares (.400 units) with two HMD's per unit.
For Army aviation, the purpose of the HMD is to assist the aviator in the performance of various missions. Each type of mission requires the aviator to perform a certain number of complex tasks. The performance of these tasks is impacted by aviator skills and capabilities (user properties), and by the characteristics of the HMD. The operational environment may include high speed, low level flight, during low illumination and/or adverse weather conditions. Eggleston developed a model which maps aviator tasks (e.g., navigation, unmasking maneuver, etc.), user properties (e.g., perception, organization, etc.), and HMD characteristics (e.g., FOV, resolution, etc.) for specific missions and mission elements. This type of analysis is essential in ensuring an optimal HMD design which meets the needs of the aviator and the mission.
The overall goal of HMDs in Army rotary-wing aviation is to effectively interface the aviator/crewmember with the aircraft and its associated systems, which allows the aviator to acquire and maintain situational awareness (state of knowledge or mental model of the surroundings). The HMD performs one or more of the following functions: (a) To display pilotage or gunnery imagery from I2 or FLIR sensors, (b) To present strategical, tactical, and operational data on demand, serving as an information management system, and (c) To sense head/eye position and motion for the purpose of designating targets, directing sensors and weapons, and activating switches. In general, well designed HMDs should enhance aviator situational awareness and increase mission effectiveness . The modern HMD is not a new concept. Its invention has been attributed to Gordon Nash, a British researcher, who explored alternative methods of providing additional information to the aviator in the 1950's. Adam Marshall traces the concept of using the helmet as a platform for a fire control (weapon aiming) back to 1916, when Albert Bacon Pratt developed and received patents for an integrated gun helmet, perhaps the very first helmet-mounted sight (HMS). This concept was revisited in the Helmet Sight System (HSS) used in the U.S. Army's AH-1 Cobra attack helicopter in the 1970's. The U.S. Navy's Visual Target Acquisition System (VTAS), developed in the 1960's, was the first fully operational visually coupled sighting system. [However, the system was abandoned due to lack of sufficient missile fire control technology.] For Army aviation, the AN/PVS-5 NVG was the first pilotage imagery HMD (first tested in 1973), and the IHADSS was the first integrated HMD (fielded since 1985).
Simply, an HMD projects head-directed sensor imagery and/or fire control symbology onto the eye, usually superimposed over a see-through view of the outside world. As such, HMDs offer the potential for enhanced situation awareness and effectiveness. However, their design and implementation are not without problems and limitations. Virtually every HMD, concept or fielded system, suffers from one or more deficiencies, such as high head-supported weight, center of mass (CM) off-sets, inadequate exit pupil, limited FOV, low brightness, low contrast, limited resolution, fitting problems, and low user acceptance. Of the potential problems with HMDs, none are more troublesome than those associated with the interfacing of the system with the human user. The wide variation in head and facial anthropometry makes this a formidable task, requiring HMD designs rich in flexibility and user adjustments.
Fielded systems
To date, two HMD systems have been fielded in U.S. Army aviation, the ANVIS and the IHADSS. These systems are vastly different in design and implementation. ANVIS is a combined sensor/display optics package which mounts unto existing aviator helmets by means of a visor assembly mounting bracket. The ANVIS is binocular (100% overlap) and uses 3rd generation I2 sensors, which being head-mounted do not require an additional head tracking system. Typical ANVIS optical characteristics (for procurements prior to December 1996) include: a focus range of 28 cm (11 inches) to infinity, unity (1x) magnification, 27-mm effective focal length objective (f/1.2), 27-mm effective focal length eyepiece lens, resolution of greater than 0.82 cycles/milliradian (cy/mr), minimum 2000x brightness gain ( 3000x for newer versions), -6 to +2 diopter eyepiece focus adjustment, and a 52-72 mm interpupillary distance (IPD) adjustment. The ANVIS housing can be flipped up or down and has a 10-G breakaway feature. A tilt adjustment of approximately 8º is provided. There is a minimum vertical and fore/aft adjustment range of 16 mm. They operate off of one lithium or two "AA" batteries. A dual battery pack is VelcroTM mounted on the rear of the helmet to improve the CM. A summary of ANVIS optical and electro-optical (EO) specifications is presented in Table 1.1. Additional summaries of ANVIS performance characteristics are provided by McLean et al. (1997); Harding et al. (1996) DeVilbiss, Ercoline, and Antonio (1994); Brickner (1989); and Verona and Rash (1989).
IHADSS is a monocular design with imagery provided to the right eye only. Where ANVIS integrates the I2 sensors into the HMD, IHADSS depends on a FLIR sensor located on the nose of the aircraft.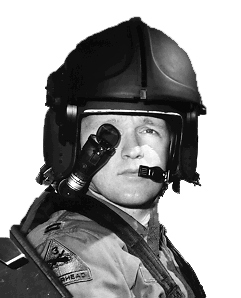 IHADSS
The IHADSS HMD consists of a helmet, visor housing with visor (clear and tinted are provided), miniature CRT image source, head tracker, and display optics. Lead sulfide detectors, mounted on the helmet, are part of the EO head tracking system which slaves the nose-mounted FLIR to the aviator's head motion. The headborne components of IHADSS are called the integrated helmet unit (IHU) and the combination of the CRT and display optics is called the helmet display unit (HDU) (Figure 1.13). The last element in the HDU optics is a combiner (beamsplitter) which reflects the HMD imagery into the aviator's eye. The combiner is a multilayer dichroic filter on a neutral density glass substrate which has its reflective characteristics maximized for the P43 phosphor used in the CRT. IHADSS performance specifications include a 30º (V) x 40º (H) FOV, unity (1x) magnification, a 10-mm exit pupil, a nominal ± 3 diopters optical focus range, and a 10-mm optical eye relief.