I am an ex-USAF Weapons Director/Control Technician (1973-77). After graduating college and graduate school, I went to work for the US Department of Defense in various systems Engineering positions. I have worked on Weapons Direction system and Missile Fire control Systems for the US Navy, Communications systems for the Trident Submarine before working on some sensitive intelligence programs (if I told you, I would have to kill you). I transitioned into the private sector about 9 years ago and I have my own company, supporting Manufacturing systems in the United States (mostly SAP).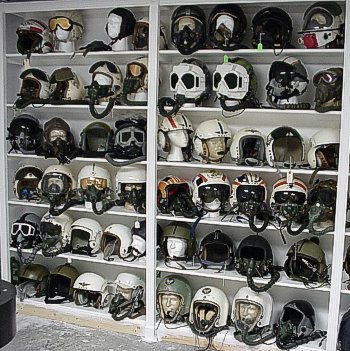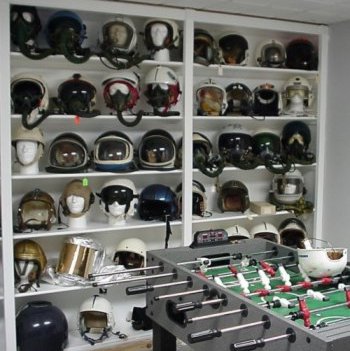 I have been collecting flight helmets and oxygen masks for about 15 years. I am working on a book about flight helmets (as some of you know). My collection has about 250 helmets. Somewhere in the two pictures: 2 Navy MK-IVs, 4 nuclear flash equipped helmets, A Navy Nuclear flash helmet (DH-101), an HGK-13/P USAF Pressure Suit Helmet, TK-1 Chinese Partial Pressure Suit Helmet, Gsh-6M Russian Pressure Helmet, 2 MA-2s, a K-1, A Taylor Model E Partial Pressure Suit Helmet, a clamshell, Two or three Gold visors and a couple of pairs of the goggles with gold lens. I won an additional helmet with twp gold lens on E-Bay recently and I finally won an Early Canadian DH-41 with external visor (I have a gold lens for that helmet as well). I have most of the US flight helmets and I have really enjoyed extending my collection to non-US equipment.
PS: While on active duty, I worked ground control for fighter interceptors in NORAD/ADC. Most fun I ever had with my pants on: a couple of backseat rides in T-33s ( Thanks John Macaffee where ever you are) and a couple of rides in the backseat of an F-101B Voodoo. Thank you Capt John Foynes for a 35,000 ft, 1000 MPH ride, inverted. And thanks to Maj Bobby Carlson at 178th FIS North Dakota Air National Guard for letting us fly.