Hi everyone, my name is Christian Brydges and I have been collecting helmets and flightgear for about ten years now. Along with two colleagues I have three ex. military aircraft and am the custodian of one other. The aircraft are F.Mk6 and T.Mk5 Lightnings, an F-104 Starfighter and an F35XD Saab Draken which form the basis of the NATO aircraft museum in Lincolnshire in the UK.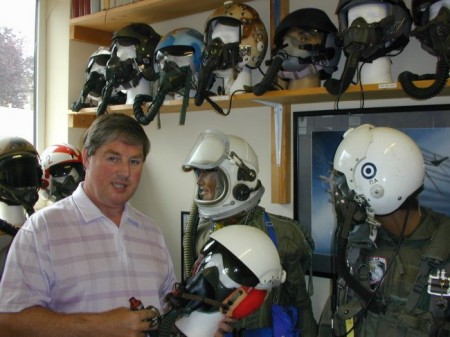 I first became interested with military aircraft at the age of about 10 years and as I grew up so did my involvement with the real thing rather than plastic kits of them. The bigger I got, so did my toys!! Because my garden was not big enough for the real thing I began collecting items associated with the aircraft such as ejection seats and flying helmets. I could find out very little about the subject of flying helmets so this started me out on my quest for more knowledge of them and so my collection started growing from a single MK.3c until now with my collection of just over 50.
I have been very lucky in my short time of collecting by being in the right place at the right time as I have been able to add no less than 12 examples of early pressure/partial pressure and High Speed Anti-Blast helmets manufactured by Baxter, Woodhouse and Taylor and also M.L. Aviation to my collection. Through flightgear I have been able to trade with various interested collectors I have met, thanks to this fascinating site, and long may I continue to do so!!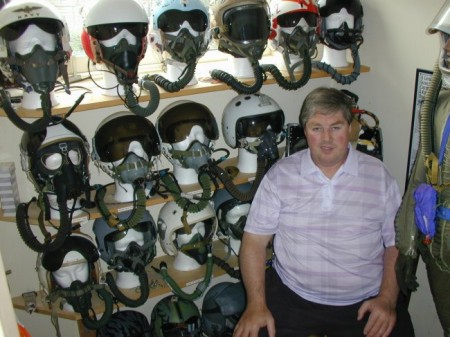 I have three mannequins dressed in full pilot gear from boots to helmets, from Soviet, American and Greek airforces. You may visit my "den" and sit in one of the three fully equipped ejection seats from F-104G, Lightning or Phantom aircraft or maybe you would prefer to sit in one of my full size static display aircraft for a photocall! The invite is there for any of you to take up!
Very best wishes to you all on the Flightgear site!!