AN/AVS-6(V)1 and 2, AVIATOR'S NIGHT VISION IMAGING SYSTEM (ANVIS)
For modern day aviators, the working day does not end at 5 o clock anymore. Operations are carried out twenthy four hours a day. To aid the pilot while flying in night time conditions, a lot of air arms are using some sort of night vision equipment. The USA and some of its NATO partners are using the AN/AVS-6 system.

Binocular Assembly
The binocular assembly consist of two identical monoculars mounted under a pivot-and -adjustment shelf (PAS). The monoculars can be moved in different ways to adjust them to the eyes. The monocular consist of three subassemblies. One objective lens assembly, one monocular housing with image intensifier and an eyepiece lens assembly. The binocular assembly is mounted to the helmet by means of a visor-guard mount (AN/AVS-6(V)1) or offset mount (AN/AVS-6(V)2). A neck cord is used to prevent the visor from falling.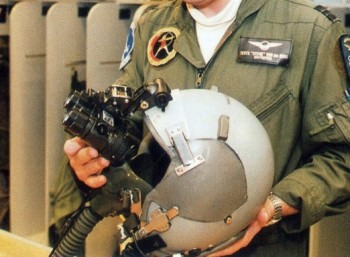 Visor Intergrated Mount
For operations on the SPH-4 Helmet, the standard visor guard can be removed and replaced. This replacement visor housing contains some adjustments for the use of the ANVIS. The bottom of the intergrated mount on the visor housing has a low-battery indicator (an LED) that gives an indication when battery life is approximately 30 minutes. The mount also provides the electrical contacts for the binocular. A slightly different intergrated setup is used on the SPH-5 and HGU-56/P helmets.

Offset Mount
The offset mount attaches directly to the existing visor on helmets. It contains the same features as the mount described above.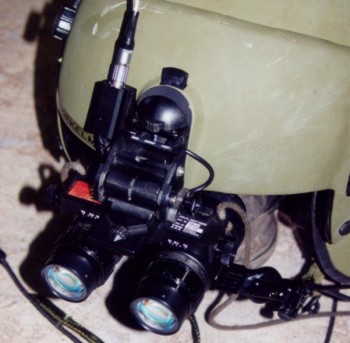 Power Pack
There are three types of power packs. Original types can hold two lithium batteries and the newer types hold either one lithium battery or two AA batteries. Two of the packs attaches to the back of the helmet and one, as seen on the HGU-55/P, seems to have the powerpack intergrated with the mount. Aicraft
power can also be used.

How does it work?
Visible light and near infra red light are passing through the lens. The beams are focused on the photocathode and are turned up side down. When the light reflects on the photocathode electrons are send to the microchannel plate. This plate has the size of a nickel and consists of millions of tubes. These tubes are a bit tilted so the incoming electrons are hitting the sides. When an electron hits something more electrons are released. As this proces happens a couple of times, a lot of electrons are leaving the microchannel plate. In this fase the actual intensifying takes place. The negative loaded electrons are speeded to a phosphor screen. This speeding up increases the energy of the electrons. The electrons reach the phosphor screen and make it glow. In this proces the electrons are inverted to visible light. At last the image has to be turned again.

1. Offset Mount Assembly
2. Carrying Case
3. Screwdriver
4. Lens Tissue
5. Velcro Fastener
6. Operators Manual
7. Neck Cord
8. AN/AVS-6(V)2 Binocular
9. AA Battery Cardridges
10. Powerpack
11. Container/Wrench
12. Shipping & Storage Case


Source: De Vliegende Hollander (picture HGU-55/P with ANVIS)