Perhaps the most widely seen of the Russian display teams is the Gromov Flight Test Research Institute based Test Pilots Team. Flying the Sukhoi Su-27P Flanker and Sukhoi Su-30 Flankers the team often appears at shows on behalf of the Sukhoi Design Bureau. Lead by Lithuaian born Anatoly Kvotchur, perhaps the best display pilot in the world, the team flies solo and duo routines. They have appeared at all the major aerospace exhibitions such as Farnborough, Paris and Dubai, as well as many of the big miliatry events such as the International Air Tattoo.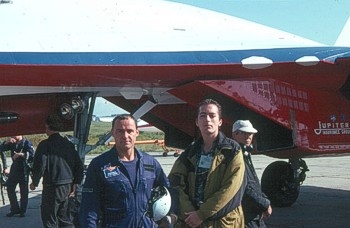 Flightgear Online visited Anatoli Kvotchur and the Test Pilots Team at their homebase Zhukovsky near Moscow.
Currently, A. Kvochur holds a position of Deputy Chief, Flight Research Institute named after M.M. Gromov. Hence two interrelated spheres to apply his skills. They are flight testing and scientific activities. Moreover, he is head of Flight Research and Aerobatics center (FRAC) the name and concept of which incorporate the words "pilot" and "scientist". The center was set up in 1992. Its aim was to perform professional aerobatics flying the Sukhoi Su-27 and Su-30 aircraft both in group and separately, and to carry out research. He has been a test pilot since 1977 and having worked for the Mikoyan design bureau for over 10 years.

One unusual characteristic of this team is that Anatoli himself pilots and prepares the aircraft at shows, as well as flying large distances to satisfy demand for their exciting shows. For instance, June 6th 1998 he flew from Moscow straight into a show in Finland. Then he landed and refueled before taking off for Woodford Airshow in the UK. After flying straight into his low level routine he again landed and refueled before taking off straight into a display at Biggin Hill. The next day he flew another display at Biggin Hill before refueling and flying straight back to Finland for his second display amassing some 5000km flying over two days. He also has flown a Su-27 with a flight that covered 16,000 km within 24 hours with only three intermediate stops. This unique super long range flight took place in March of 1995 and the plane flew from Moscow via Tashkent and Singapore to Melbourne and back.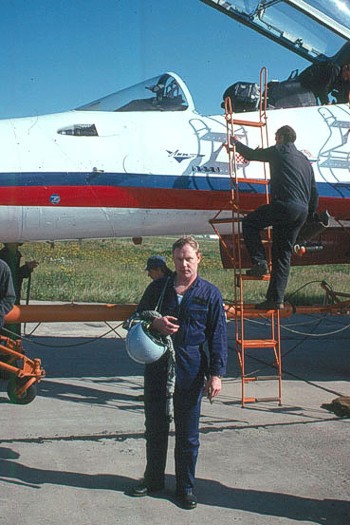 Anatoli is also known for his MiG-29 ejection at the 1989 Paris Air Show. While flying he suffered an engine failure that produced Kvotchur's most spectacular performance. Flying just over 100 miles per hour at an altitude of about 500 feet, the right engine stalled and the Russian pilot had to eject. As his K36DM ejection seat exited the cockpit, the aircraft rolled towards its starboard side and then descended in an almost perfect nose-first vertical attitude. Less than two seconds after Kvotchur punched out, the aircraft crashed to the ground. Kvotchur's parachute opened fully the moment his feet touched the ground. He suffered only minor injuries during the spectacle.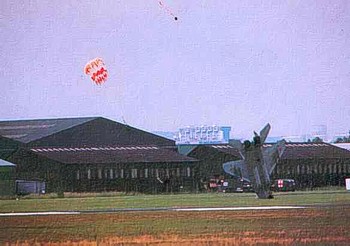 Anatoly Kvochur is leader of the group that includes pilots Vladimir Loginovskiy and Alexander Garnayev. The Su-27 No 598, 595, and Su-30 No 597 demonstrators used by the group are equipped with the most sophisticated radio and navigation equipment, satellite navigation included, and they feature air refueling system. Their flight range at a cruise speed of 900-1,000 km/h and at an altitude of 12,000-15,000 m is about 4,000 km.

Anatoli and the other pilots of his team wear blue flight suits, most of the time the pilots perform without g-suits. The helmets worn are the Zsh-7 versions, with at least one of them being an Zsh-7AN with KM-35 mask.