Application:
The Mk.3C supercedes the Mk.1A/1G also Mk.2A and Mk.3A/3B type helmets and will cover in one basic design, a helmet for aircrews concerned with low and high altitude (rotary and fixed wing) with or without ejection seats.

Description:
This helmet embodies communications equipment, oxygen mask attachments, and anti-blast/anti-glare visor. It is made in four sizes and all necessary adjustments are provided for correct individual fitting within the range covered by each of the four sizes. The rigid outer shell of molded glass fiber resinate is provided with shock absorbing lining or cork and an internal cradle of nylon webbing to minimize the transmitted force and distribute it over as large an area of the head as possible. The soft padded lining is replaceable and its attachment to the shell forms a windproof seal. The lining can be removed either for replacement or for access to the communications equipment or other interior fittings. Average weight of the complete helmet is 3.75lbs.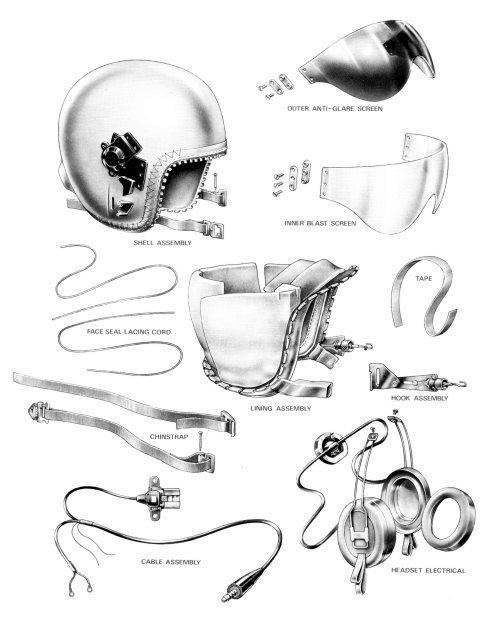 A single miniature telephone feeds the signal via sound tubes to acoustically designed ear capsules with fluid seals. The capsules on an adjustable light spring wire suspension, can be held away from the face when donning the helmet but seal snugly on the head when tensioned by the chin and nape strap. The telephone normally has an impedance of 300 Ohms and DC resistance of 105 Ohms, but alternative impedances can be supplied. The cable assembly terminates in a short central pigtail and NATO type plug. The headset, seals and cable assembly are all replaceable either complete or as separate items.
The oxygen mask attachments hooks are designed for use with a chain toggle harness Mk.5 as on the 'P' and 'Q' type masks. Although designed for the 'P' and 'Q' type masks the attachment and adjustment will suit other masks with a chain toggle harness.
The anti-glare/anti-blast visor is a double visor system with a side mounted, polycarbonate inner visor for blast and birdstrike debris protection and an outer independently positioned glare visor. The inner blast visor is held in the down position by a side mounted locking device.


source: Helmets LTD