When encountering a hostile threat with Nuclear, Biological or Chemical weapons, the Luftwaffe wants to continue its defensive operations. For this reason, the "Draeger Werk" in Lubeck a.o. manufactured some special flight gear. Each frontline unit has some of this gear in stock. The gear is only handed out in case of real emergency and most of the pilots have never trained with this outfit. Another problem is the lack of official approval for the use of this gear. Although manufactured and delivered to the squadrons, it is never tested and proved by the T.U.V. (national testing and approval board). So officially it may not be used at all.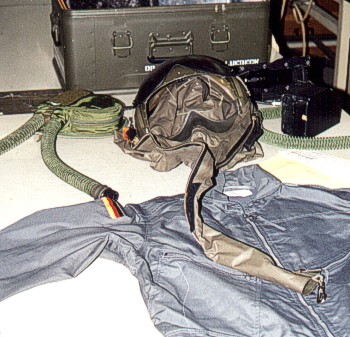 The Flight suit
Looking like a normal grey German Flight suit, the protective coverall is a lot heavier. Underneath the Aramid outside are some layers of filter material like carbon. This is giving the pilot a protective filter around his body to protect him from chemical or biological agents. Gloves are included.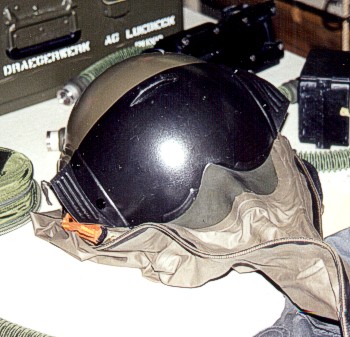 The Helmet cover
Worn over the HGU-55G helmet, is a special hood. The HGU-55G helmet has its visor kit removed before the hood can be put on. In front is the hose cover for the MBU-5P mask making it looking like an elephant's nose. The hood uses a method of pressurized air so the air only gets out of the hood and never enters. The oxygen mask and pressurized air set are connected to a filter pack that is carried to the plane and installed on the onboard supply system. The hood features a clear visor to protect from impact and also has a cover that is not transparent to protect from the light of a nuclear explosion.