Flightgear Online teamed up with Aviaworld and visited the Portugese Air Force at their air bases during 1999. Main purpose of our visit was the end of Portugese flying operations with the A-7P Corsair. Flightgear Online took the chance of checking out the flight equipment in use.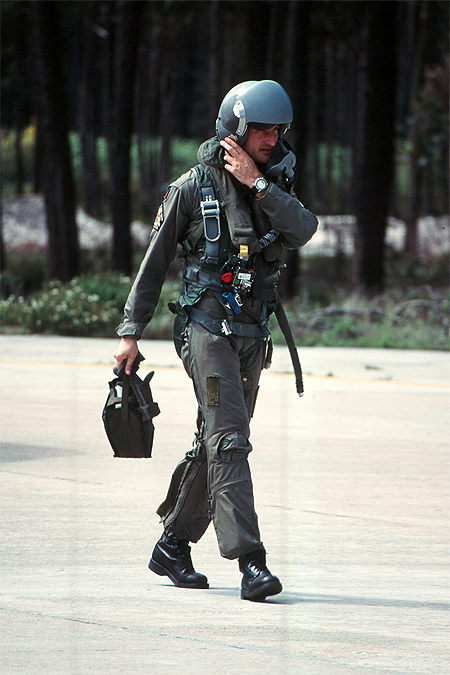 Helmets
The sole helmet type in use during our visit was the HGU-55/P helmet in three different configurations.

Helicopter and light training aircraft pilots flying a.o. the TB.30 Epsilon, Alouette 3 and DHC.1 Chipmunk use the HGU-55/P equipped with a bungee type single visor.
These crewmembers do not use an oxygen mask so their helmets are fitted with a boom microphone.

The two remaining jets in Portugese service are the Alpha Jet and the F-16A.
For this fast jet flying, the single bungee visor HGU-55/P is used in combination with the gray MBU-12/P oxygen mask. The leather visor covers are sometimes adorned with embroidered callsigns and squadron markings.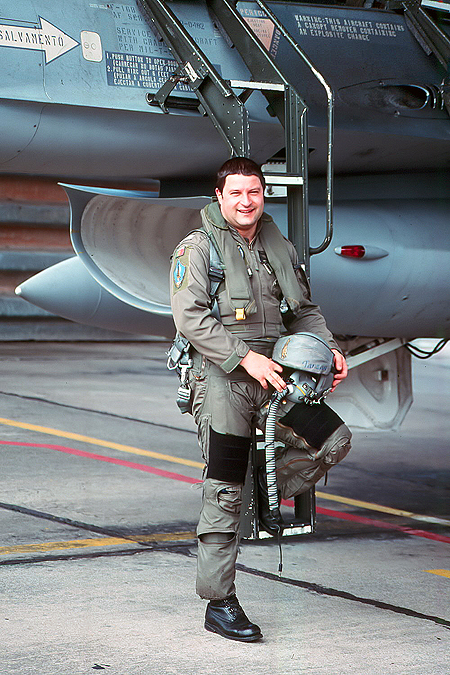 On the now retired A-7 Corsair, the HGU-55/P was fitted with a PRU-36/P dual visor kit. As the Corsair was also used for sea operations, the dual visor kit gave a better protection against bird strikes.

PCU's, LPU's and MA-2's.
While flying the F-16 out of Monte Real, the pilot wears the PCU-15/P torso harness with an LPU-9/P like horse collar life preserver. During our visit a crewchief was invited to fly backseat and was thrown around the sky. He needed half an hour after the flight before he was able to leave the F-16B....

The Beja based Epsilon crew wear an AeroAzur back type parachute harness with time release, no life preservers were seen but probably a LPU-10/P under arm type is in use. The instructor pilot on the left in the picture is wearing some sort of kidney protector.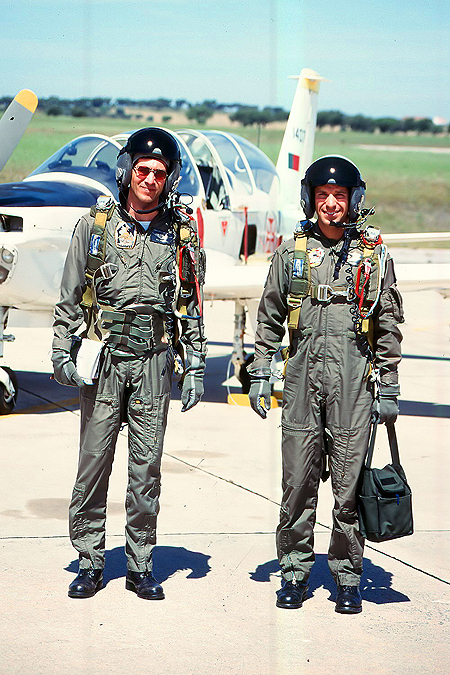 For flying the former German Airforce Alpha Jet, the pilots use the integrated harness from the Martin Baker seat. The Alpha Jets also fly from the sunny former German airbase of Beja. Still present here are a lot of retired T-33A and T-38A jet trainers.

The A-7P pilots were wearing a combined US Navy and Airforce outfit, the MA-2 torso harness with an LPU-9/P like life preserver. The MA-2 also has some sewed on survival pockets.

Portugese pilots wear a CWU-27/P type flying coverall and standard Nomex flying gloves. All fast jet jocks are fitted with the CSU-13B/P anti G-suit.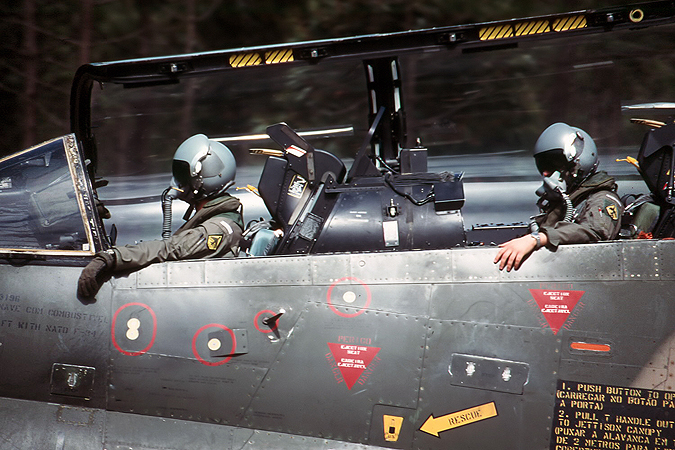 These days the magnificent A-7P and TA-7P Corsairs are no longer flying. Their tasks are taken over by the F-16's.