As the Netherlands Air Force bought more and more equipment from the United States through the Military Aid Program, one would suspect that flight gear was one of them. While flying the F-84, T-33A and Starfighters, the Dutch managed to go their own way and not following the roads of a proven concept. This gave some strange combinations of French parachutes, Dutch coveralls, American g-suits and helmets and British life perservers. This article focuses on the late sixties till early eighties.
Until today, the Dutch have a tendency of altering and modifying everything they get their hands on. This ranges from making own NBC protective gear to making changes on the PCU-15/P torso harness.
F-104G Starfighter
While flying the F-104G Starfighter, the Netherlands Airforce used at least 4 different combinations of gear all of them with the EFA type 220 and 384 parachute with EFA 36A barostatic time release and foot spurs.

Daily use 1960's: P-series type helmet; A-13A mask; Z-3 g-suit; B-5 life preserver and CRU-8/P.

High Altitude flights from 1965 till 1974 an EFA type 21/23 helmet; ARZ 30 suit and LPU-2/P life preserver and Scott inline pressure reducer.

Daily use 1970's: HGU-2A/P single visor helmet; (MS22001) MBU-3/P mask; CSU-3/P g-suit; LPU-2/P and CRU-60/P.

Daily use 1980's: HGU-22/P (HGU-26/P) dual visor helmet; MBU-5/P mask; CSU-13/P g-suit; LPU-10/P and CRU-60/P.
On the last years of Starfighter flying, the MBU-12/P was used.
(More info on the high altitude gear can be found on Flightgear Online as well.)
F-84G, F-84F, RF-84F
In the early years F-84 years a B-8 (USAF) back type chute was used. Later on superceded by the EFA Type 220. This time combined with:
Daily use early 60's: P-series type helmet; A-13A mask; Mk-4A or Z-3 g-suit; B-5 life preserver and CRU-8/P.

Daily use late 60's: HGU-2A/P ramshorn and single visor; (MS22001) MBU-3/P mask; CSU-3/P g-suit; LPU-2/P life preserver and CRU-8/P.

Daily use early 70's HGU-22/P single visor; MBU-5/P; mask CSU-3/P; LPU-2/P and CRU-60/P.
The use of the ramshorn was limited to a small number of helmets and two picture exists of one being worn in the last operational year of the F-84F, 1971.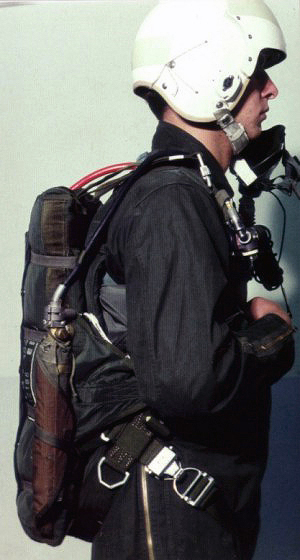 T-33A
Pilots on the T-33A used an even wider range of equipment as this jet came in to service in the 1950's two different types of EFA parachutes were used and the B-8 back type chute as well:
Daily use mid 50's: P-1 type helmet with goggles; A-13A mask; Z-2 g-suit and Mk4A life preserver.

Daily use 1960's: P-series type helmet; A-13A mask; Z-3 or CSU-3/P g-suit; B-5 life preserver and CRU-8/P.

Daily use 60's/70's: HGU-2A/P single visor (later HGU-22/P dual visor); MBU-3/P mask; CSU-3/P and LPU-2/P and CRU-60/P.

Most of the time T-33A pilots did not use a g-suit. The EFA parachutes were of the following types: Type 346 back type/waist coat, Type 324 sit-type. Later the Type 346 was replaced by the EFA Type 220 and 384. The Type 324 was used in the backseat, this being caused by the space between the canopy and the frame of the plane while climbing in. Also there were limitations on the size of the pilots.
The seat container holding the Mk.7 dinghy was replaced in the backseat by a softpack with the dinghy.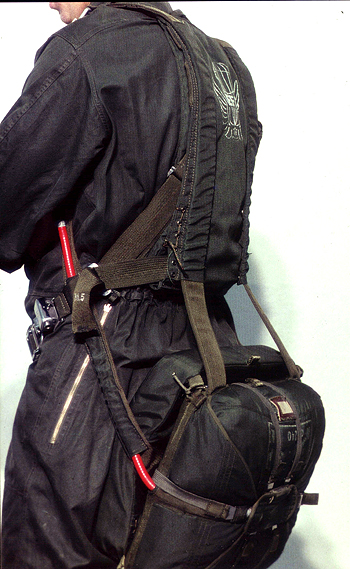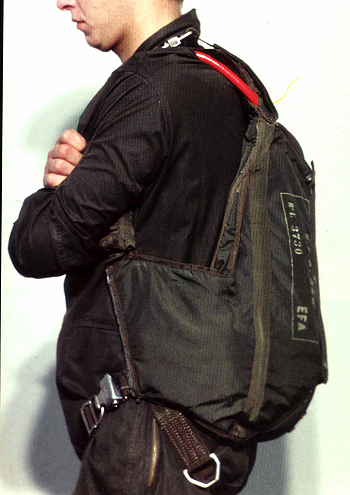 Piper Cub
This light utility plane was used in the late 60's and seventies with the following items:
P-series helmet with boom microphone and Mk.4A lifepreserver.
S-11
The Fokker S-11 training aircraft was flown in its last years with another strange combination of items.
Mk.1A helmet; A-13A mask with bracket (no hose, used as microphone holder); EFA sitting chute and LPU-2/P.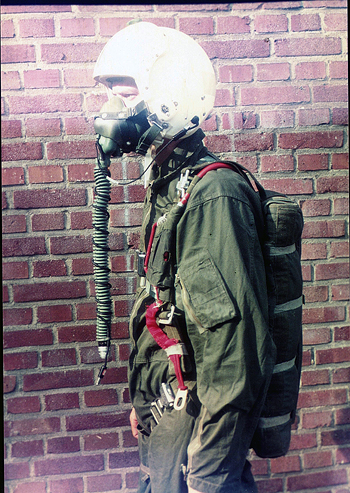 Other flying gear
The MBU-3/P mask was also known as the MS-22001. The A-13A mask is the English version with the switch on top and having an MC-3A connector. The MS-22001's used the CRU-8/P as the later ones and MBU-5/P's used the CRU-60/P.
The EFA parachutes were equipped with an automatic opening device, the back type parachutes used the Type 36A, the sitting type parachute used the Type 36S-4. This time-release had a baromatic system.
The P-3 and P-4 series type helmet came in different versions, one with centre track and leather tabs to attach the mask. The other one being without the centre track and having cast bayonet receivers for instance. The HGU-2A/P (and HGU-22 shell) helmet was white with reflective stripes on the back (inverted T) and on the visor cover (V shape). Later on the visor cover was painted in squadron colours and the helmet was modified (see separate articles on Flightgear Online).
The Dutch coverall used with the CSU-3/P was worn over this g-suit. The hose for the CSU-3/P came through a hole in the side of the coverall. The coveralls were all of local manufacturers like Seesing, Haverlach and KLM clothing made of wool, cotton and later a sort of Nomex type fabric. Colours ranging from orange and grey to green.
The LPU-2/P replaced the B-5 but was forbidden for use with parachutes without canopy release.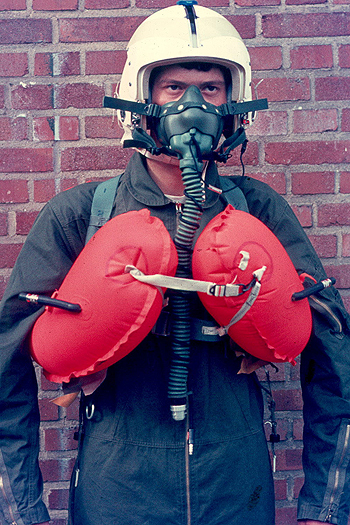 Flight Jackets came in two types, the green B-15 look-a-like jacket and a grey leather one with orange liner.
For the storage of survival equipment a survival belt was developed. This belt was worn on the waist and besides a flashlight carried two aluminium boxes. One of these boxes contained several smaller items like fishing hooks and toothpaste with brush, the other held a first aid kit.
Note: All pictures are taken from original Netherlands Airforce instruction slides.